Why do Wrestlers Wear Makeup and Face Paint?
While the history of facepaint in wrestling dates back to the early 1920s, it has been popular recently. It has become a famous fashion statement, gaining popularity in the 1980s with the rise of the Road Warriors. The look was based on a modern, angry muscle man and was inspired by films such as Golddust and the movie "Blade Runner." The use of face paint in wrestling became more common in the late 1990s, thanks to the appearance of many female wrestlers.
Wrestlers can wear makeup and face paints to enhance their character and build unique characteristics that fans love. This gives them more attention and makes the crowd remember their face. However, makeup and face paints are unnecessary, and wrestlers can get on stage bare-faced.
Today, wrestlers in all different types of pro wrestling still wear face paint. Wrestlers like Sting or Tyson Fury would get slapped if lacquered up like Vampiro. Some even get artwork tattooed on their faces. These days, however, it is the women who sport face paint, and it continues to grow in popularity.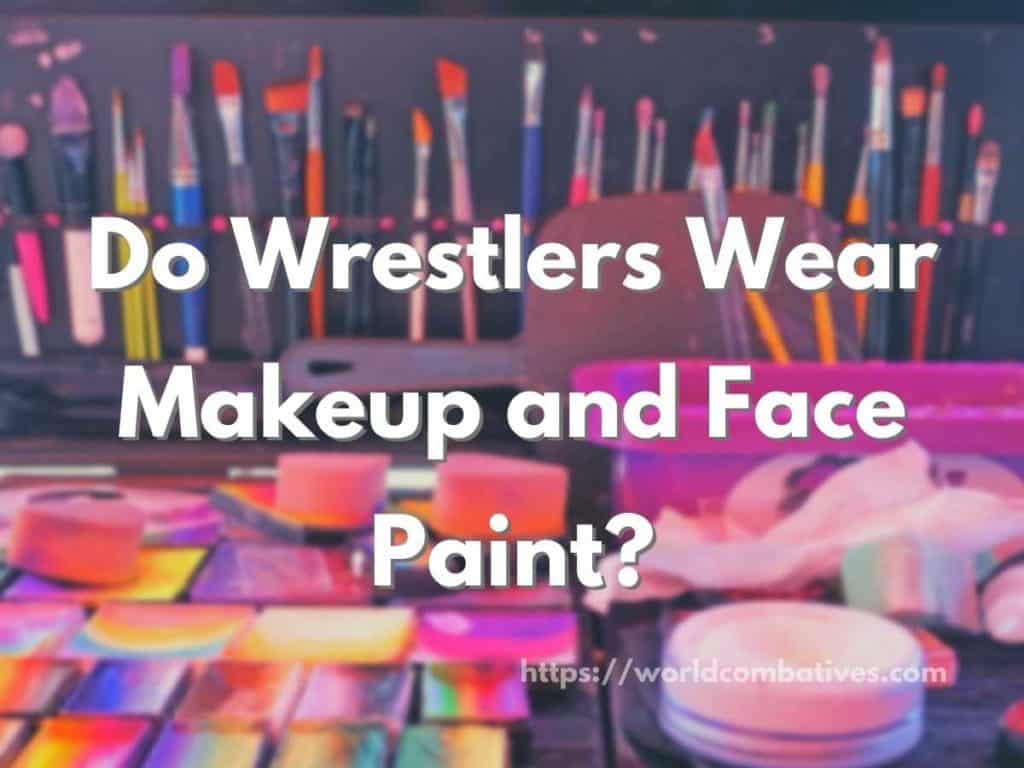 Do Male Wrestlers Wear Makeup?
Most male wrestlers wear makeup to make their faces more appealing on TVs. For example, Undertaker has used eyeliners and makeup in his career. However, while wearing makeup seems to be popular in wrestling, wrestlers are free to choose whether they wear makeup or not.
While some wrestlers don't wear face paint, some do.
For example, The Undertaker has been known to use eyeliner and makeup throughout his career, though some fans criticized his unblended panda eyes as being too overbearing.
Wrestlers, like any other profession, wear makeup on stage.
Makeup has been mandatory for male and female wrestlers since the nineteenth century.
In the 1980s, WWE programming began to air on national television and became more accessible to audiences.
In 1984, MTV teamed up with the WWE to create Rock 'n' Wrestling Connection, which aimed to appeal to a younger demographic. A WWE wrestler even appeared as Cyndi Lauper's father in her music video "Girls Just Want to Have Fun."
The male wrestlers aren't forced to wear makeup – the lights, the HD TV, and the wrestling fans force them to.
It's just a matter of preference, and it's important to remember that some of the best male and female wrestlers don't wear makeup.
While they might be known for their charisma and enigmas, the vast majority of them are unrecognizable without makeup.
Using makeup on matches is different from beards, where cutting them is necessary. I made a blog post talking about the topic, and you can find it here: Are people allowed to wear beards in a wrestling match?
Why Do Male Wrestlers Wear Makeup?
Generally Speaking, male wrestlers wear makeup to look good on screen. However, some wrestlers wear makeup to enhance their characters such as Undertaker's famous eye makeup. Furthermore, some put makeup for various purposes, like wrestlers who put different lipstick colors depending on the match type.
One popular question about WWE is: Why do Male Wrestlers wear makeup and eyeliner? The answer depends on the kind of character they're portraying.
Many wrestlers wear eyeliner or lip gloss, but few are as bold or creative as the Undertaker.
Wrestlers can also use makeup to enhance their characters. Some wrestlers even go as far as changing their lipstick colors.
While wrestling is a sport that requires athletes to be physically fit and attractive, male wrestlers have always had upper-cut and facial features.
As a result, male wrestlers often wear eyeliner, but not as women.
Wrestlers can also use body paint, such as Undertaker, though his panda eyes can make his character look weird for some.
Other famous wrestlers have used makeup for years, including Adrian Adonis, who frequently wore eyeliner and hair clips.
Why Do Wrestlers Wear Face Paint?
Wrestlers wear face paint to enhance their character such as when the Stalker used green face paint to excite the fans. In addition, wrestlers tend to have their signature moves and look to make them unique since fans love seeing unique faces on matches.
Facepaint is another question that is on the minds of many WWE fans.
The truth is, face paint has been popularized by a few notable stars, most recently Finn Balor, who rose to heel status in the WWE.
In the past, the Boogeyman appeared on Raw. This character was painted to look spooky but was often incorporated into comedic storylines.
In fact, his appearance scared many of his opponents, which led to creating a Legends contract.
The earliest wrestlers to wear face paint were from Japan.
The Great Kabuki was the first to use face paint, and later Akihisa Mera adopted the technique.
This wrestler was known as The Stalker, and his green-skinned appearance was a great gimmick.
Another major player in the history of face-painting was Adrian Street, who turned the fear of audiences into a positive for the sport.
Using face paint can make a significant impact if done correctly.
It is similar to wearing a mask and can be used as a gimmick.
The face-painting trend has been around for decades and used by wrestlers from different eras.
However, face paint is not as common in today's more realistic face products.
Do Female Wrestlers Use Face Paint?
Female wrestlers can use face paint to give them a characteristic look that viewers love. One of these is a Japanese WWE star named Abadon, who used red face paints. Facepaints are a great way to get reactions, and the more reactions a wrestler can create, the more fame a wrestler can get.
Many current female wrestlers wear some form of face paint.
Abadon, the Japanese star of the WWE, has blood-red face paint.
In professional wrestling, the match is choreographed and predetermined.
The show can be separated from the sport, but it is still a spectacle.
The female wrestlers must emote for the fans in the rafters and television.
To do that, they must use face paint.
The more colorful the face paint, the greater the emote. The more emotes a wrestler can create, the more viewers will invest in her.
It's important to remember that female wrestlers have lower ceilings than their male counterparts, so it's best to avoid the temptation to wear face paint if you want to compete at a higher level.
Some of the best performers in history have used face paint.
The use of face paint is common among female wrestlers.
The color of face paint is important for a variety of reasons. First, however, it's essential to make a wrestler's face look beautiful.
Can Wrestlers Wear Face Paints Outside of Wrestling?
Generally speaking, wrestlers can wear face paints outside the wrestling ring if they want to. Since they're playing a character using face paints, they can choose to play the character in public. However, they are free not to use their character outside the ring.
Wrestling masks and face paints are often used for fashion or a unique look.
Some wrestlers, like Chris Jericho, wear these to create a more unpredictable character.
Whether it's a way to play up their alter ego or a way to stand out from the crowd, wrestling masks, and face paint are fun and fashionable.
Wrestlers can wear their masks and face paints outside the ring depending on their preference.
What's next? If you're interested in learning wrestling, you might want to practice on a wrestling mat. However, one big question is if these mats are waterproof. You can find the answer here and some ways to make sure your mats last a long time: Are Wrestling mats waterproof?